The anticipation was building.  Our Mystery Ranch packs were loaded to max capacity.  3 cameras, 16 camera batteries, 2 audio recorders, handfuls of AA & AAA batteries, 2 Garmins, 19 Mountain Houses, 1 Snowy Mountain Rifle Co .300WSM, 2 water filters, 4 bear tags, and 3 guys looking for an amazing Idaho bear hunt.  We hoped the planning we had compiled over the past 6 months would finally come together on what would become our hardest hunt to date.
I laced up my boots and made one last attempt to collect my thoughts before hitting the 10 mile hike to our camping location.  We had all the necessary gear to accomplish our goal in 7 days.   Now we just had to put the pieces together and take the pain that comes along with carrying +70lb packs.  The country we were hunting was a beautiful backcountry landscape and helped us push through the aching pain in our shoulders and feet.  The only thing that stood between ourselves and our camp for Day 1 was a 1600′ vertical ascent.  What looked like a maneageble open hillside on Google Earth, turned into an overhead jungle of brush.
We clawed up the mountain, busting brush, and beating ourselves down to our final ounce of energy.  I wanted to quit!  Motivational words from everyone kept us on our feet and we made the last push to the summit.  Our destination had finally been reached!
We had a 1/2hour of daylight to burn and spent our time glassing from camp.  The 270degree view of the surrounding basins made for a great vantage point.  Anthony quickly spotted a boar feeding 2.5 miles away in a clearing.  Our energy was reinvigorated at the first sign of bears being in our location!  Two minutes later I spotted a sow and cub not more than 400 yards from the boar.  High fives were shared and we continued to glass.  At last light Anthony once again spotted a new boar feeding along the top of a steep ridge of an adjacent mountain.  It was game on for tomorrow!
Our plan for Day 2 was to explore a couple clearings we had found via satellite imagery.  The hiking proved more than difficult, with more jungle brush to fight through.  After 2 hours we had only made it a mere 1 mile.  Travel was tough, but we had found another great vantage point.  Glassing was once again the key to success, and we spent most of the morning behind the binos.  Bear spotted!  Zack had picked out a cinnamon bear working a treeline.  We were off and headed in the direction of the bear.  Halfway to the bear, a cub was spotted.  Stalk over.  We had already made a serious descent and decided to setup and glass more country.  Spring in the mountains means storms can roll in at any time and before we knew it a small system moved in forcing us to find cover.  We found refuge under a large tree and sparked a fire for warmth.
3pm came quickly and we made the decision to move further from camp to glass more clearings.  The weather in the distance was littered with thunder clouds.  We stuck to the plan and soon I had spotted a large black bear work out of a clump of trees.  The bear was not stopping to feed and quickly disappeared into the dark timber.  By this time rain and hail were again beating down against our rain gear and we once again found shelter in the trees with a fire to keep us dry.
The weather had settled slightly and with only 2 hours of daylight we gathered our gear and headed towards our camp 2.5 miles away.  Our camelbaks were low and we took advantage of a small creek to filter water.  'Bear! Bear! Get over hear and setup!" Anthony whispered.  A blonde bear 400yards away was feeding along some brush.  The bear worked behind some trees as I setup the 300wsm on my Metcalf.  Five minutes passed.  Nothing.  Finally the bear appeared, Anthony ranged the nearest tree. 388yds.  I dialed in my turret and waited for the bear to stop.  I took one last breath, settled in comfortably, and let the hammer drop.  BOOM! the bear chomped at his shoulder and ran behind some nearby jungle brush.
I knew I had hit the bear good and felt great about the shot.  We reviewed the footage Zack had captured, watching the vapor trail scorch through the rain and hit the blonde bear perfectly behind the shoulder.  We gave the bear some time, hoping the shot had rang vitals.
I walked up on the heavy bloodtrail that started from the point of impact.  Fifty yards away lay an amazing Idaho blonde bear!
Daylight had faded fast as we captured a few photos in the pouring rain.  Nightfall was upon us as we cleaned the bear and loaded it into my Metcalf.  The easy part was finished.  Now the task at hand was to find our way back to camp and climb 1500 vertical feet to our camp through the slippery jungle at night.  We followed an overgrown horse trail until we were within 3/4 mile from camp.  There was no way we were going to make it through the high overhead brush and downfall without risking injury.  It was late, we were getting tired, and our camera gear needed to be dried out to avoid permanent damage.  Our only choice was to camp out under some trees for the night and sleep next to a fire. Fortunately we were prepared and had a camp stove, a water filter, food, and extra Sitka layers.  Our dinner consisted of Mountain House and fire roasted bear backstraps, which actually tasted amazing with a touch of Alpine seasoning.
We stacked a large pile of wood next to our makeshift beds and prepared for a cold night of sleeping in the backcountry. Tossing, turning, and applying constant fire wood was our routine for the night.  The next morning we woke to sprinkles of rain and the sound of the creek nearby.  We were close to camp, but we were also close to a clearing where we had seen 5 bears already.  Anthony was ready to shoot a bear and we figured we would try to double up before making the arduous trek back up to our camp.   We hunted most of the day, not seeing a single bear.  The sun was coming out finally and the temperatures reached  close to 70degrees.  I needed to get my bear packed out to our ice filled Yeti back at the truck.  Zack and Anthony would head back to our camp at the top of the mountain and move camp closer to where the bears were hanging out.  I on the other hand would pack my bear out solo, 12.5 miles to the truck that evening.
I hiked the bear out as fast as I could without risking injury.  I wanted to beat nightfall in order to make my navigating easier.  I made the truck at 10pm, relieved to be back and able to rest.  I pounded a Gatorade and found sleep in the front seat of the truck.
The following morning I made the long trek back into the mountains, along the way I followed a fresh pair of wolf tracks.  Wet paw prints crossed a log over a creek beneath my boots.  I was only an hour or less behind an encounter with these wild predators.
I cleared my mind and pushed on.  I made it to our new camp location and was happy to be reunited with the guys.  Spirits were high and the afternoon was spent glassing the clearcuts where we had spotted bears the previous days.  4:30pm hit and Anthony had spotted a monster chocolate bear in the highest clearing across the basin.  With hopes of the bear feeding for a couple hours, Zack and Anthony took off, while I watched from my vantage point.  It took the guys far longer than expected and the bear vanished into the forest.  Instead they were greeted by a couple large bull elk, feeding in the same clearing.  It was awesome to see some mature bulls roaming the area.
On the way back down the mountain, Anthony spotted another big bruin feeding a different clearing back across the basin.  Anthony and Zack ran to close the distance.  As they popped up on a ridge at 500 yards, they were disappointed to see the bear had already fed out of the clearing.  If they would have came down the mountain five minutes earlier they would have had a shot at the bear.  The day was over and we were excited to get back to camp and enjoy the little things in life, amazing stars on a clear night.
The following day was slow.  No bears spotted in the morning, but we did find a new promising clearing.  We decided to sit a painful 6 hour wait.  Like clockwork at 445pm a large cinammon bear worked perfectly into the clearing.  Anthony ran to close the distance to 600yards.  The bear fed into a head on position and Anthony jumped on the trigger, anxious to take a bear.  The bullet missed by mere inches.  Startled, the bear took off to never be seen again.  Anthony got an earful to say the least.  His anticipation had got the best of him.  There is nothing you can do, other than to learn from your mistakes.
Day 6.  It was coming down to the wire, and time was short.  We needed to find a bear, and the sightings were decreasing at an alarming rate.   That morning we made a long hike to the highest clearing, with hopes that the bears were moving to cooler elevations with the sunny 80 degree temps.  The morning and afternoon went by slowly with only a few mule deer spotted.  We decided to bust back to the largest and greenest clearing in the area.
We made it to the clearing with an hour of shooting light remaining.  Zack had been fawn distress calling for the past half hour with no luck.  Anthony started moving to pack up for the evening, when Zack whispers, "bear, bear!".  A large black bear had appeared in the south end of the clearing.  Anthony quickly setup on a stack of Mystery Ranch packs and got ready to redeem himself.  The bear was clueless and fed on green grass head on, testing Anthony's patience.  405yards, and the turret was set.  "Alright Anthony, take your time, wait for the perfect broadside shot," I whispered while filming the 2nd angle.  The 300wsm rang out through the basin.  The shot was perfect, as the bear staggered an uneasy loop uphill.  Anthony ripped another round, missing high as the bear tipped over from the first bullet.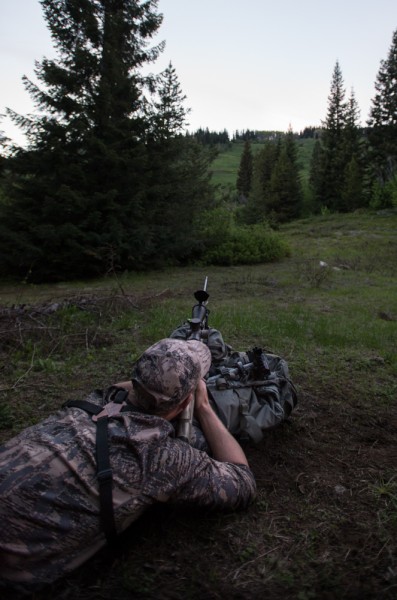 Anthony burst with emotions!  He had finally sealed the deal on his hardest hunt to date.  The ups and downs almost unbearable.  Hugs, high fives, and encouraging words buzzed.   Anthony packed up the steep incline to where the bear lay.  There was no ground shrinkage on this great boar.  An amazing black bear with tan muzzle lay in the grass.
The knives were put back to use.  With the bear butchered we made it back to camp at 1:30am.  We celebrated around the campfire, with a successful hunt in the books.  Sleep came easy that night, but was quickly disrupted as our alarms began ringing at 5AM.  No one wanted to get up, but with 12 miles ahead of us it was necessary to get an early beat so we could make it back to civilization in time to check our bears in before heading back to Montana.  Camp was quickly broken down and we distributed our gear amongst the three Mystery Ranch packs.  It was twelve miles to the trailhead and we would all be carrying packs in excess of seventy pounds.  This hunt was a true test of our resilience and determination and the test would only be over when we finally laid eyes on the truck.
As the miles clicked by we all were glad to have high quality packs making the trip more enjoyable and possible in the first place.  Twelve miles with a full pack weighing in excess of 70 pounds is no joke.  The Metcalf was able to distribute the weight evenly and keep the load high and tight to our backs.  The pain was there but it was far less then the hike in.  We were tired and beat up but as we neared the truck it all was worth it.  It was a hunt none of us will ever forget and success hinged on hard work and quality gear.
We look forward to sharing many more adventures throughout 2013!  To see more of Montana Wild visit their website @ www.montana-wild.com and their Facebook @ www.facebook.com/Montana.Wild.Productions.
Packs in This Post